It's a swimmers most important tool, an achievement and approval at the same time: The swimmer´s body. But just as for the development of a swimmer's performance there is no perfect blue print for what their body should look like.
Finish elite swimmer Jenna Laukkanen knows from experience that being pushed towards a certain alleged ideal shape can be tough on a swimmers mind. Being 1,83m tall and a specialist for breaststroke swimming, the 23 year old blonde has a powerful appearance. That didn't always come without challenges.
"When I was growing up, at the age of 16 or 17, some people were always comparing me to somebody else and telling me, that I had to be skinnier", she tells us during the "International Swimming Camp", where Jenna passes on her experiences to a group of young German swimmers.
Throughout her career some coaches told Jenna that only strict diets and less weight would lead to faster times. At first she tried to please these expectations. "I used to do this – diets and food schedules – but it made me think too much. Eating became a source of stress", Jenna explains. For young athletes situations like this can be tipping points. Especially during puberty, they have to deal with a lot of physical changes and some lightly chosen words can manifest in the athletes mind and lead to a deep feeling of self-doubt and even eating disorders. Even international top swimmers just like the Olympic Champions Amanda Beard and Misty Hyman from the USA or Hungarian national swimmer Liliana Szilagyi had to deal with bulimia.
Luckily Jenna Laukkanen managed to steer free of such problems and found her way to handle eating habits. "For me it works much better to just get my mind of it and simply eat what feels right instead of following a strict regime", she says. "Every day I'm reminding myself that it doesn't matter how you look like, it just matters how fast you swim in the pool. Nobody is scoring points for being the prettiest or skinniest one."
For Jenna being physically outstanding in her own way was even one of the reasons she became a swimmer in the beginning. As a child she was already taller than other kids. "Unfortunately because of my height I was really clumsy", she tells us. "I have tried many sports but swimming was the easiest and best one for me. Only in the water it felt like I knew what my body was doing." And there was another reason that surely many swimmers can understand: "What I didn't like about doing sports when I was younger was sweating – so I liked swimming a lot."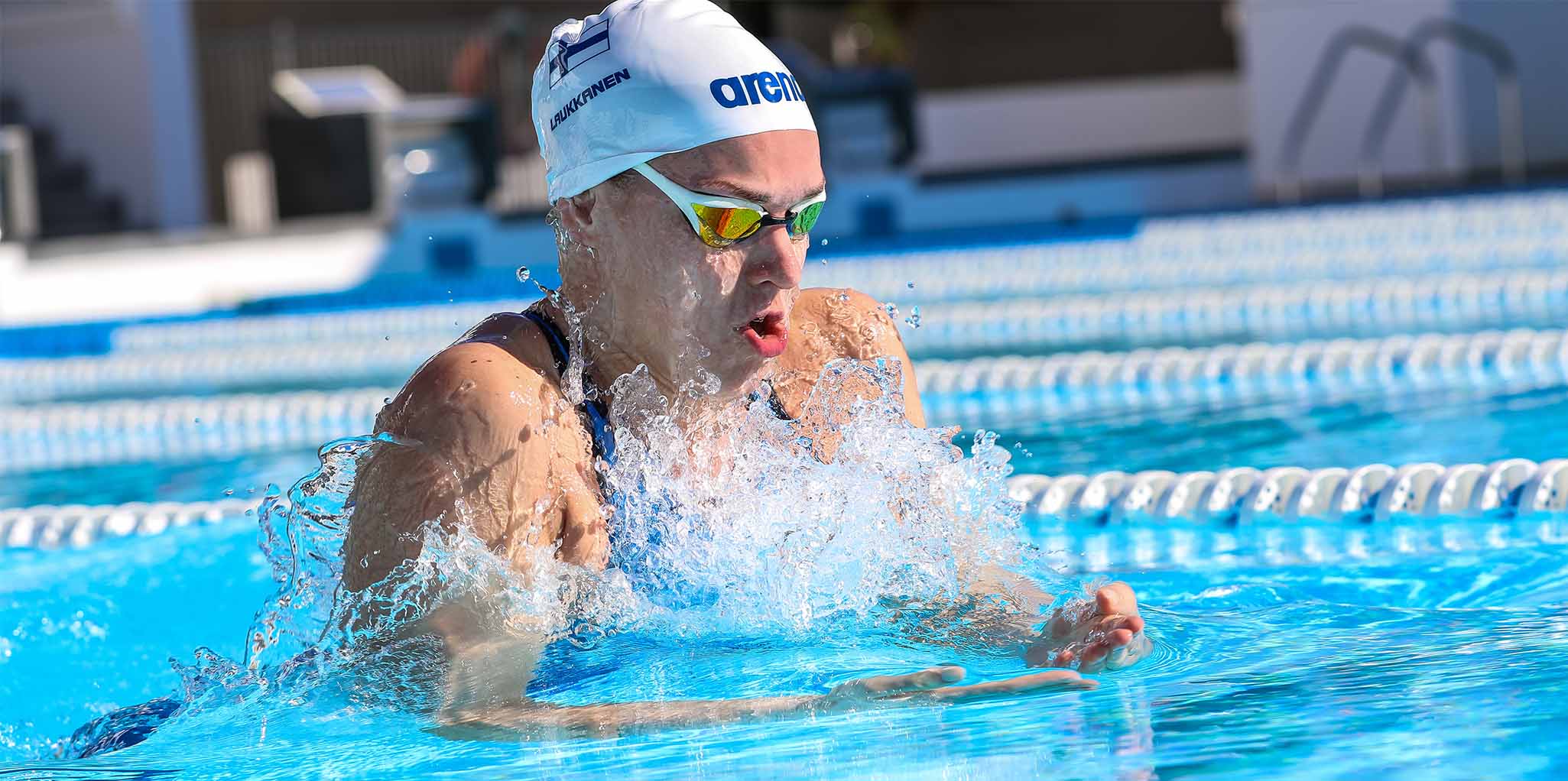 In 2012 by the age of just 17 Jenna could prove her talent on the world stage for the first time at the London Olympics. Medals on the continental level followed, in 2015 she won her first international titles by becoming European Short Course Champion in the 50 and 100m breaststroke. But no career path is a straight line. Last year Jenna Laukkanen went into the European Championships with high expectations. After winning medals in the 2016 edition she wanted to follow up with strong performances two years later. But a hard week of racing ended without a single final and she even missed the semi-finals in the 100 and 200m breaststroke. "That was tough. I was really down afterwards", she remembers. "But it helped that we found the reasons and figured out what I can do better."
During the fall and winter Jenna went on fixing the problems that caused her 2018 setback. "Sometimes you just have to learn from your mistakes. I feel like I have lots of things left in my bank." Her next goal: Making the A-cut qualification time for the Olympics 2020. To book a ticket to Tokyo, Jenna has to swim 1:07.07 minutes in the 100m breaststroke with her current best time being a time of 1:07.35. "That's doable, but I really have to step up my game."
"Because at the end of the day what counts
is not how you look like, how old you are or where you're from,
but only your performance."
To get in shape for Tokyo 2020 Jenna is starting of the year 2019 at the "International Swimming Camp" at Club La Santa on the sunshine island of Lanzarote. Together with other top athletes like the former European Champion Jenny Mensing from Germany or Austrian Olympic Birgit Koschischek, she is not just swimming her laps at the pool. The experienced international athletes are also coaching a group of about 50 German age group swimmers. "It's a great opportunity to give something back and share the knowledge with the kids."
By sharing her experiences Jenna also gains more motivation to pursue her own goals. Qualifying for Tokyo will only be a first step. After reaching the semifinal at the Rio 2016 Olympics Jenna aims for the finals at her third games. With the world elite getting tighter and tighter, whoever makes it to the finals will be a medal contender. So for Jenna it's not presumptuous to dream: "That's the beauty in our sport: When you're in the final – anything can happen. Because at the end of the day what counts is not how you look like, how old you are or where you're from, but only your performance."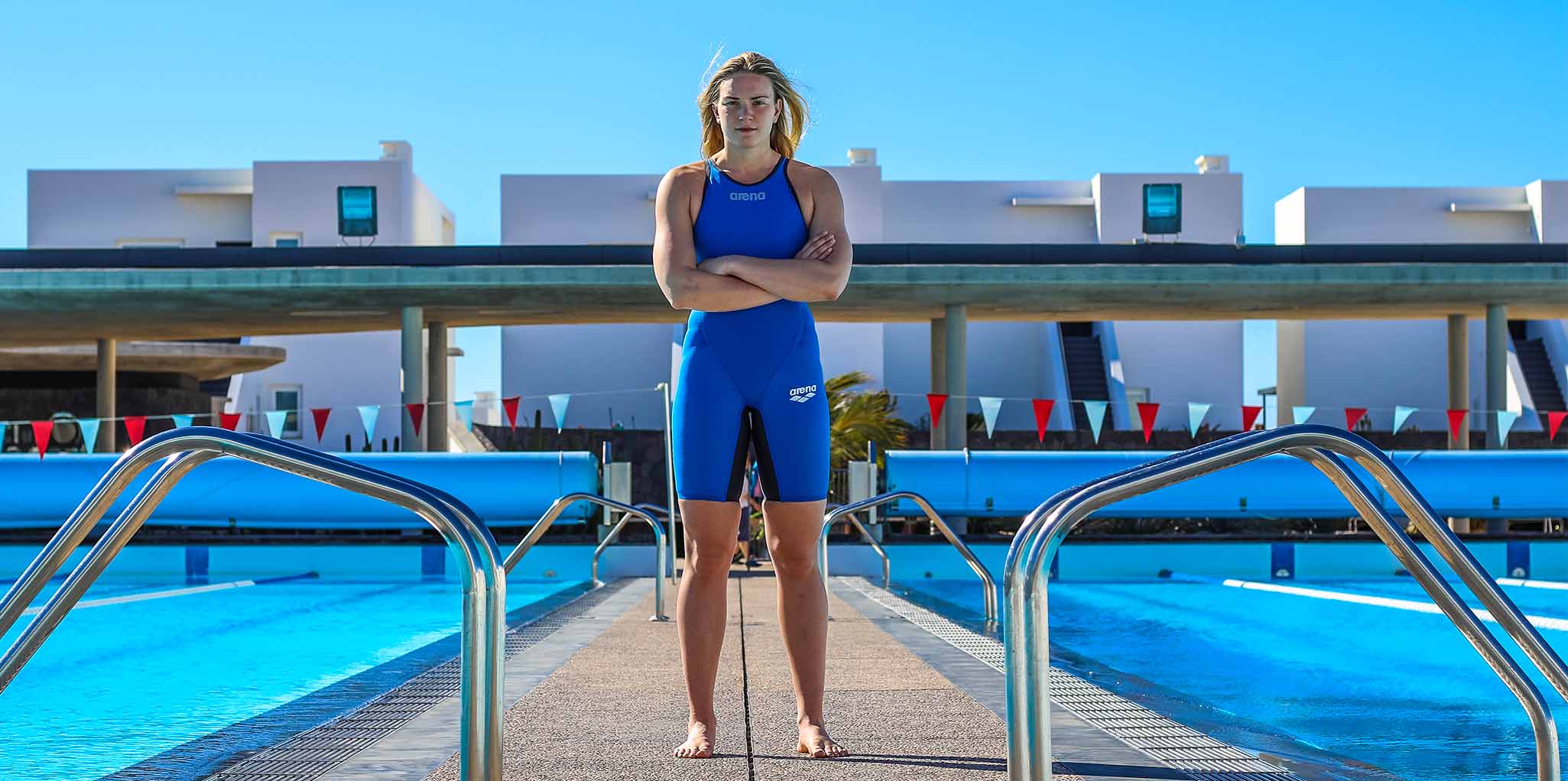 pictures: www.thesportpicturepage.com